News
News
August 01, 2022
(For IST students) Excellent Research Assisntant for IST Creative Evolution Project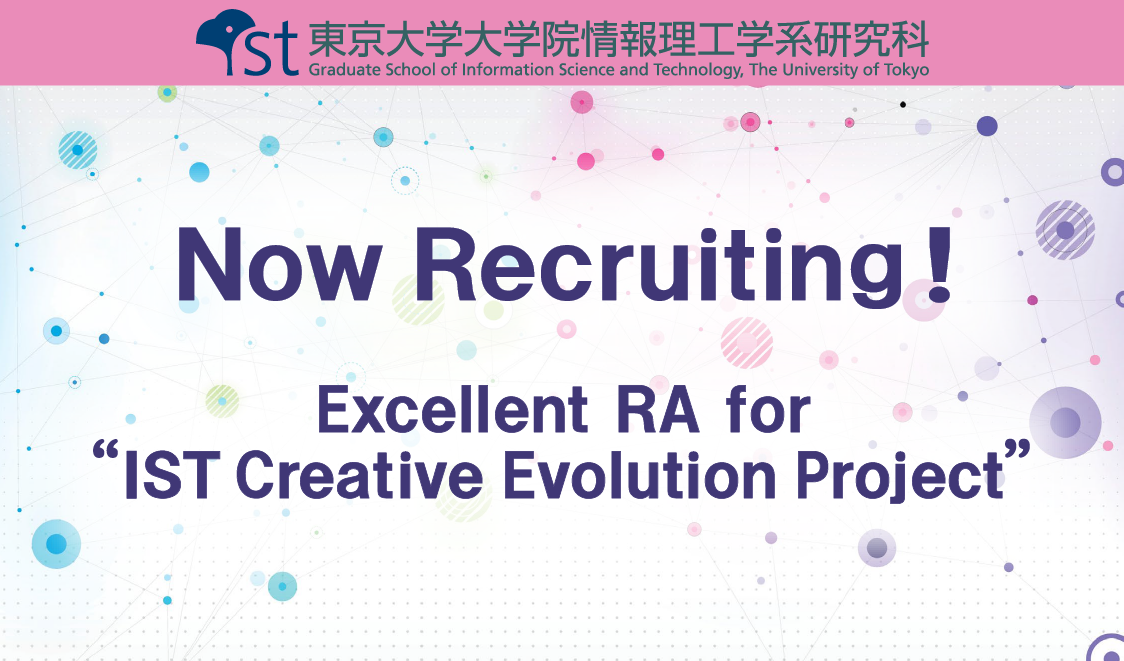 Please contact IST Creative Evolution Project headquarter at the Plannning Department, if you're interested in participating the project for academic year 2022.
Graduate School of Information Science and Technology (IST) of The University of Tokyo has reopened recrutment for Excellent Research Assistant for "IST Creative Evolution Project".
The students involved in the initiative, as Excellent Research Assistants, will cultivate abilities for planning, developing, and promoting projects, as well as acquiring a variety of perspectives surrounding information science and engineering. Of course, the interactions with versatile people in IST and related communities will be precious occasions by becoming Excellent Research Assistants of the project.


【Ecpected Themes】
The Excellent Research Assistant will be involved in the tasks including (1) to (4) below by forming a team and conducting the projects.
(1) Diversity and Inclusion (D&I)
Explore, support, and execute Diversity and Inclusion activities in the area of information science and technology.
(2) Science Communications
Explore, support, and execute a variety of science communications activities related to IST.
(3) Industry-Academia Collaboration
Explore, support, and execute industry-academia collaboration, especially involving the UMP-JUST program in IST.
(4) Extension
In addition to the items (1) to (3) above, a variety of activities may be considered in the project. Especially for international students, strengthening the representation of the activities in IST to global communities and English-friendly communication environments of IST are of great importance.
【Project Period】
July 2022 to March 2023.
(Approximately 20 hours per month.)
【Salary】
40,000 yen / month
【Number of Employments】
6 to 10 students
【Qualification Requirements 】
Doctor or Master students in IST
【Contact 】
IST Creative Evolution Project Headquarter at IST Plannning Office
email: kikaku◎adm.i.u-tokyo.ac.jp
*Please change ◎ to @ when sending an email.